SoundPool Product Info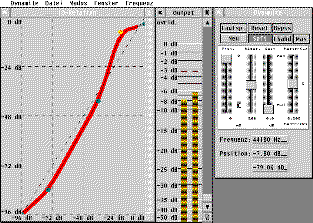 The SoundPool Dynamics Processor optimizes levels, level peaks and the dynamics of your audio material. Due to the freely adjustable I/O curve this DSP software works as a compressor, expander, limiter or noisegate simultaniously at different level ranges.
Mastering
The Dynamite's control parameters are designed for easy use at all mastering purposes.
Control parameters
The control parameters attack, release and gain as well as softknee and masterlink can all be adjusted in a wide range. The intelligent 'lookahead' function looks into the 'future' and gives full control over the input dynamic of the audio material. This leads to a compact and warm 'high level' sound without a loss of transparency and dynamics.
The level I/O curve can be freely defined using as many points as neccessary over the complete level range from -96 dB to 0 dB. A variable zoom function gives you full control over the level display.
Record and Play Funktion
Dynamite is capable to record and playback Audio Files in AIFF format on harddisk. In 'offline' mode files on harddisk can be processed.
---
Author: Rainer Baumgärtner

Item code: 210-04 Dynamite

Distributor: SoundPool GmbH, Postbox 1112, D-74373, Zaberfeld-Germany

Tel. +49-7046-90215

Fax/BBS: +49-7046-90315

eMail: info@soundpool.de

Internet: http://www.soundpool.de

Info vom: 25. September 1997